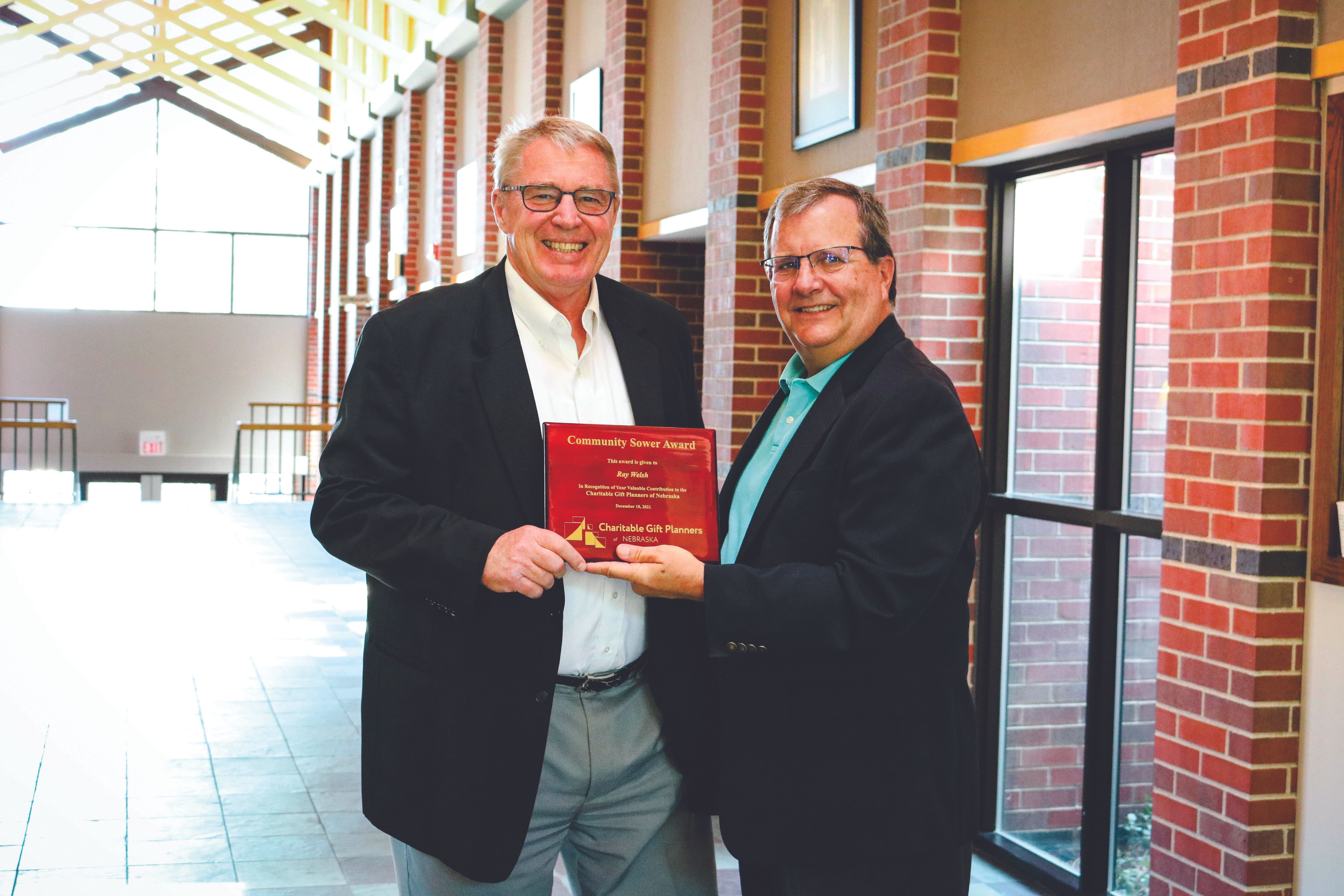 A longtime friend and collaborator of Nebraska Community Foundation recently received recognition for his nearly two decades of community-building work in northeast Nebraska and beyond.
Welsh's recognition is well-deserved. As a champion for his hometown, Welsh's charisma and knowledge has allowed him to help many clients, friends, neighbors, family, and former residents of Pender to make current and future gifts to benefit their hometown. Welsh's influence has been instrumental in helping 100% of the members of the Fund Advisory Committee of the Pender-Thurston Education & Community Foundation Fund (PTECFF) to make a planned gift to benefit the Fund. There are 17 known planned gifts conservatively valued at almost $1 million for the benefit of Pender, a community of about 1,000 people.
"Ray is a very humble man," wrote NCF's Jim Gustafson in his nomination materials. "But if the truth be known, Pender would not be the attractive community it is today where people of all ages want to live, work, raise families, and play without his efforts to inspire and attract others to give of their time, talent, and treasures."
Welsh joined the Pender Fund Advisory Committee (FAC) in 2005 and soon began helping clients and neighbors with charitable giving and estate planning. His fingerprints are on a multitude of achievements, including the Pender Community Center. Welsh and the fundraising committee raised $7.1 million facility, which features event and meeting spaces, a track, batting cages, village offices, a veterans' organization, a fitness center, and an early child development center. Welsh continues to facilitate gifts for an endowment to help sustain the community center.
Today, Welsh serves in an advisory capacity to the Pender FAC and is an honorary member of Nebraska Community Foundation's governing board, on which he served from 2007 to 2016. Welsh frequently acts as a Peer Mentor in NCF's statewide network willing to talk with other community funds in the network about the "Pender Way."
About Nebraska Community Foundation
Nebraska Community Foundation unleashes abundant local assets, inspires charitable giving and connects ambitious people to build stronger communities and a Greater Nebraska.
Headquartered in Lincoln, the Foundation serves communities, donors and organizations by providing financial management, strategic development, education and training to a statewide network of 1,500 volunteers serving over 270 communities.
In the last five years, 45,915 contributions have been made to NCF and its affiliated funds. Since 1994, NCF has reinvested $423 million in Nebraska's people and places. For information, visit NebraskaHometown.org.